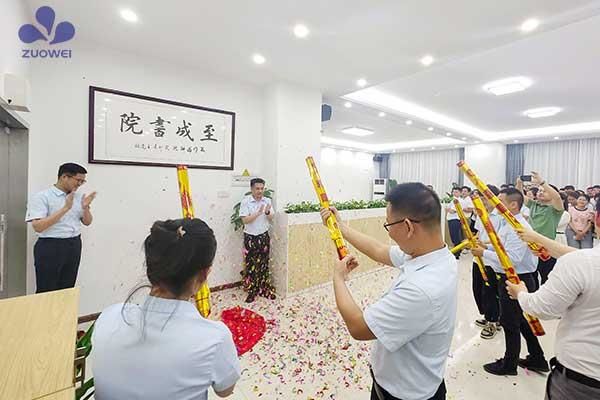 Sharing is the beginning of learning, and learning is the beginning of success. Learning is the source of service innovation, as well as the source of enterprise development. Zuowei developed rapidly in continuous learning
On May 4, a technology learning sharing session and the opening ceremony of Zhicheng Academy were successfully held.
First of all, Mr. Peng fully affirmed the learning and sharing results of this training camp. He pointed out that we should learn to manage our emotions, learn to overcome fear, correct the shortcomings of making excuses and procrastination; we should be grateful and appreciate every valuable person in our life; we should also break through the inherent thinking, believe in ourselves, and don't set limits on ourselves; moreover, we should also always keep a sense of crisis; He thought, enhancing the competitiveness of enterprises is mainly to improve the competitiveness of talent.
Next, the islander shared his experience after the training from four aspects:
1.Don't set mental barriers for yourself when doing anything, as long as you break through yourself and remove the barriers in your mind, you will be able to accomplish your goals;
2.Working together as a team to accomplish goals more easily;
3.Try our best to do anything, the result will not be too bad;
4.Stay grateful, thank parents for raising, thank teachers for educating, thank friends for caring, thank colleagues for help.
Then, Qingfeng shared her experience as an assistant teacher during each game session. She said she would try to do well in her future work and life and would be a person with integrity, faithfulness, and responsibility.
Besides, many members of Zhicheng Academy shared their experience and mind about the training.
The meeting also held a ceremony to inaugurate the academy, this academy will become an important place of publicity of corporate culture, its major function is to practice corporate culture, promote the implementation of the strategy, build a learning organization, improve the overall quality of corporate staff and enhance the impact of the enterprise.
At last, the company launched the first golf training camp. Golf, as a gentleman's sport, is not only known for its elegance but also represents a deep culture and connotation; it helps us to enjoy the fun of swinging a club while strengthening our body and getting away from the hustle and bustle of the city and returning to the nature.
This learning and sharing salon helped all staff to improve their thinking and understanding. During the development process, all the staff of ZUOWEI will work together, unite and work hard to continuously improve themselves, strengthen the company by making more contributions, and strive to help one million disabled families to ease the burden of "one person is disabled, the whole family loses control"!
---
Post time: May-19-2023